4 Fitness Tips from Ronda Rousey You Must Follow
Ronda Rousey is UFCai??i??s first and only Women's Bantamweight Champion. She won the 2015 ESPY award for Best Female Athlete and Best Fighter beating the likes of Serena Williams and Floyd Mayweather respectively.
Ronda has an incredibly fit and strong body but getting there wasn't easy for her. Being a professional fighter and adding best on top of it, you have to be a strict diet follower and have to work really hard on your body.
Rousey diet and workout routine isn't everyone's cup of tea. But we got you some tips from the Furious 7 actress.
So here are the 4 punch-packed fitness tips from Ronda Rousey you could follow:
Don't be monotonous
Before entering the arena of professional fighting, Ronda was a judo champion. She won a bronze at 2008 Beijing Olympics.
Ronda says she never dreads going to her practice sessions. She practices many different types of techniques: technical striking, wrestling, grappling, strength conditioning, Pilates. She says this variety make her practice days cool and interesting.
ai???The coolest part of my training is that I get to change it around based on how I feel. Thatai??i??s the difference between MMA and Judo – Iai??i??m not on a monotonous training schedule.ai???
The WWE lover adds:
ai???My abs never used to be like this until I started doing MMA. When you do one sport, youai??i??re specialized. But now all those tiny muscles show up because Iai??i??m doing so much. The variety really helps.ai???
The warriorai??i??s diet
Rondaai??i??s, a former vegan now follows a diet that is a combination of The Paleo and The Warrior diet. This diet basically consists of one meal a day and involves training on an empty stomach.
These diets arenai??i??t easy to follow. But here are some ai???regular humanai??i?? aspects of this warrior diet you can follow:
Avoiding refined processed foods.
Eating only natural, chemical free or organic foods.
Minimize consumption of foods that are wrapped or bottled in plastic containers.
Eat carbohydrates last during the evening meal in order to stabilize the level on insulin in the blood.
This is how ai???The Expendables 3ai??? actress cleanses her body. She stays away from refined sugar and alcohol. The only craving this beautiful fighter gives into is coffee.
Make water your best friend
Where most of the fighters and wrestlers think of water only in terms of weight gain, Ronda thinks otherwise.
ai???Drink a copious amount of water all day long. Itai??i??s really simple, and people donai??i??t do it. Even Iai??i??m guilty of not doing it. Drink more water ai??i?? all day, all the time. Constantly have a water bottle next to you, and chug out of it even when youai??i??re not thirsty.ai??? – says Ronda.
Armbar-ing the body shamming
This undefeated UFA champion fighter knows how to knock people out in more ways than one. Outside the ring, she is a positive body image role model.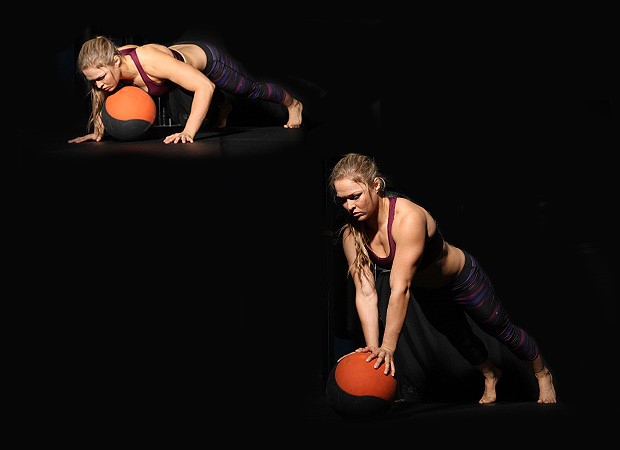 Ronda, who grew up thinking that her uncommon athletic body type was a bad thing, appeared in Sports Illustratedai??i??s swimsuit issue for which she didnai??i??t reduce but gained 15 pounds.
ai???I really do believe that there shouldnai??i??t be one cookie-cutter body type that everyone is aspiring to be,ai??? she told SI. ai???At 150 pounds, I feel like I'm at my healthiest and my strongest and my most beautiful.ai???